Published: Friday, December 28, 2018 07:21 PM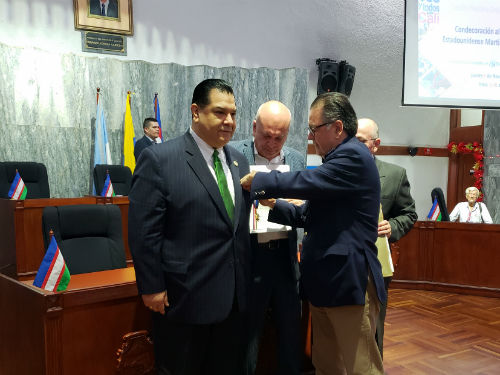 SANTIAGO DE CALI, COLOMBIA – During his recent visit to Cali, Colombia, Senator Martin A. Sandoval was awarded with the highest decoration granted by the Municipal Council of Cali to people or institutions that through their career, dedication and work contribute positivity not only for that nation but to the world.
"It's my first visit to Colombia and I have taken my first step here in Cali. From the State of Illinois, in the United States of America, today I come to tell you with humility that I'm betting on community. I'm betting on the immigrants. Just as you in Cali bet on education and youth," said the US legislator before receiving the Santiago de Cali Medal 'Cruz de Oro'. "I also come to invite you to Chicago and the State of Illinois, the land of Abraham Lincoln. The land of Hillary Clinton, of Ronald Reagan and my former colleague and roommate in the Illinois Senate; and former president of the United States of America, Barack Obama. You honor us with this invitation, both to my wife Marina who comes from Michoacán, Mexico, and myself—your humble servant—son of migrant parents who crossed the border in 1959, crossing the Rio Grande and arriving in the Promise Land in Chicago, Illinois."
Senator Sandoval took the opportunity to also emphasize in his speech the importance of education and hard honest work to get ahead and fulfill one's dreams.
"I should be in Guanajuato, Mexico taking care of goats and cows like my father did as a kid," said Sandoval. "But, instead, thanks to the hard work and dedication of my humble father whom arrived in Chicago without knowing how to write his name, I was able to become the first Mexican Senator in the Midwest of the United States to serve Illinois."
The legislator reiterated before the council and before the people who attended that solemn ceremony, that his vocation has always been to serve his community.
"From a young age. Since my beginnings as a seminarian, a federal public servant, a County Commissioner, and Senator of the State of Illinois for 16 years, my vocation has been of service to my community. Maybe it's a very small trajectory and we still have a lot to do, but, just as you, I'm betting on our youth and education," declared Sandoval. "Like you, I believe that education is paramount, and that's why as a Senator in my State of Illinois, I have been part of the construction of more than a dozen schools in my district. One of which is named after my sister, Socorro Sandoval, who was a teacher in her community."
To finalize his speech, the Illinois legislator said that We must not leave for tomorrow what we must do today.
"The future is today, not tomorrow. As public servants we have to live each moment as if it were our last. We must not leave for tomorrow what we must do today. Former Mexican President Vicente Fox would say, 'Today, not tomorrow!' And so, I say every day as a senator, thinking that there is no tomorrow, but today," proclaimed Sandoval. "I will never forget that my first footsteps in Colombia were precisely in the city of Cali. I will never forget your honors. I will never forget your people, your village and your warmth. This will not be the only time Cali will see this migrant senator who comes to visit them from a faraway land like Chicago, Illinois."