Published: Friday, March 08, 2013 03:52 PM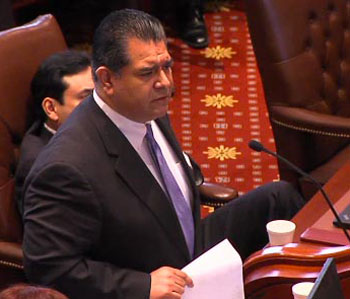 El Senador Estatal Martín Sandoval, presidente de la Comisión de Transporte del Senado, copatrocinó la iniciativa SB 26 que permitirá que 340 mil residentes adultos con ingresos de 15,415.00 dólares, o inferiores, puedan recibir cuidados a la salud a través del programa Medicaid.
"El año pasado, la Asamblea General, demócratas y republicanos, aprobaron recortes de 2 mil 700 millones de dólares al programa Medicaid, dejando a miles de latinos, blancos, y afroamericanos de bajos ingresos sin servicio médico. Esto ocurrió un momento en que perdieron sus trabajos y sus hogares por la recesión económica. Por eso me opuse vehementemente a esos recortes y voté en contra", dijo Sandoval.
"Por eso hoy apoyo e impulso esta nueva medida que permitirá que cientos de miles de personas accedan a servicios médicos. De hecho, casi el 20 por ciento de los posibles beneficiarios son de origen latino, tan sólo en mi distrito viven cerca de 19 mil de ellos", dijo el Senador Sandoval.
La extensión de elegibilidad del programa Medicaid aprobada por el Senado de Illinois SB 26, por 40 votos a favor y 19 en contra, fue enviada a la Cámara de Representantes para su consideración.
Los fondos que financiarán esta medida provienen del gobierno federal. "En estos días no recibimos muchas cosas del Gobierno o del Congreso federal, por eso hay que aprovechar este financiamiento que beneficiará a muchísimos residentes del estado", dijo Sandoval durante su discurso de apoyo a esta legislación en el pleno del Senado.
A continuación se detallan algunos de los criterios de elegibilidad de la expansión del programa Medicaid, de acuerdo con la recién aprobada iniciativa SB 26.
DESCRIPCIÓN
• Todos los adultos con ingresos del 138 por ciento del nivel de la pobreza determinado por el gobierno federal ($15,415.00 por individuo) o con menores ingresos, podrán enrolarse en el Medicaid a partir del 1 de enero del 2014. Actualmente, los adultos sólo son elegibles para Medicaid si sufren de incapacidad o si tienen niños que dependen de ellos.
• El gobierno federal reembolsará a Illinois el 100 por ciento del costo de la cobertura de los nuevos elegibles hasta el 2017.
• El nivel de reembolso federal se reducirá gradualmente después del 2017 hasta alcanzar el piso de 90 por ciento del costo después del 2020.
• Si el gobierno federal no reembolsa el 90 por ciento o más del costo de estos nuevos beneficiados al Medicaid, las personas que enrolaron el programa bajo esta medida perderán su elegibilidad y el estado de Illinois no estará forzado a cubriendo los gastos.
BENEFICIOS
• Llegará una entrada masiva de 1,100 millones de dólares en el primer año de implementación a Illinois, y más de 12 mil millones de dólares en los primeros ocho años de la expansión del Medicaid.
• El estado ahorrará 105 millones anuales gracias a que el gobierno federal cubrirá los gastos estatales por conceptos de salud mental, medicamentos para tratar el HIV/SIDA y otros renglones de gastos.
• Se reducirá la carga en los hospitales que dan cuidados y tratamiento a los pacientes sin seguro médico (mayormente en las salas de emergencia).
• Se contará con un mejor cuidado preventivo y una mejor atención a la salud mental entre segmentos vulnerables de la población.
Senator Sandoval represents the 11th Senate District, which includes the neighborhoods of Brighton Park, Clearing, Gage Park, Garfield Ridge, Little Village, West Lawn, and West Cook municipalities of Bedford Park, Burbank, Cicero, Forest View, Lyons, McCook, Stickney, Summit and Riverside.